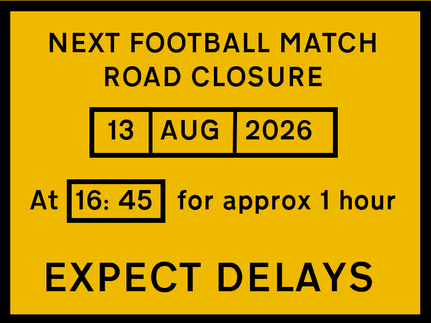 Oxfordshire County Council's Strategic Priority number 4 (which OUFC needs to meet for its stadium proposal to proceed) is that the development will
"Significantly improving the infrastructure connectivity in this location, improving public transport to reduce the need for car travel in so far as possible, and to improve sustainable transport through increased walking, cycling, bus and rail use" 
As part of their bid for approval to acquire the Triangle, Oxford United have made much noise about their plan to get 90% of their fans to travel by public transport – quite a bold ambition given the fans' current travel preferences. They believe that achieving this would boost their 'green' credentials – yes, perhaps (if we ignore for the moment that they will be abandoning a stadium which is only around 20 years old and concreting over green belt land to build a new one…). 
90% of OUFC's average home attendance of 8,300 last season would be 7,470. Let's not be overly optimistic and say that just 50%, not 90%, of those 7,470 travel by bus or coach.  That's 3,735 people needing to be bused in. An average double decker bus holds 70 people, meaning 53 buses will be needed. To put that in context,  currently six 2/2a buses per hour go past the Triangle site on Saturday - it would take all these buses 9 hours to get everyone to the game, not considering the needs of local bus users. 
Assuming that not more than 10% will travel by train, that equates to around 750 using Chiltern Railways. The average seating capacity for the type of carriage used is between 200 and 250, with 2-carriage trains commonly used. On Saturdays, most of the trains from Marylebone are at least three quarters full during the day, leaving about 125 spare seats; in other words, 6 trains will be required. There are 2 trains per hour, so it would take 3 hours to transport supporters to Parkway station.
These figures then come into play on the return journey and it is highly possible that for a mid-week evening game the timetables for both modes of transport are reduced late at night. The attendance, bus and train figures are taken from various websites and of course these usage figures are purely speculative but in the unlikely event there is more than 50% bus use and 10% train use then those figures make even worse reading.
OUFC may well arrange for extra "football special" transport on match days but it will have to be a lot to negate the detrimental impact to non-football users.
OUFC expect that parking spaces will be needed for ~4000 cars
OUFC's recent project spotlight on infrastructure admits that OUFC 'expect that the stadium could result in an initial 4,000 vehicles continuing to drive to a car park given existing cultures and behaviours.'  Where will they park?  Most will probably be directed to the Parkway and Pear Tree park and rides. Those using the remote P&R's will need to be bused to the ground (yet more buses at peak arrival time). Good luck to anyone planning to use the P&Rs for their intended purpose of getting into Oxford.

Greater attendance means greater transport issues   .....
OUFC clearly have ambitions for any new stadium to attract much higher average attendances than they achieve at present. At full capacity, all of these projected figures would double.
Road closures and delays are expected
OUFC's published information avoids any firm commitments, stating that 'Any traffic and parking mitigation measures will be subject to a planning application'.  Worryingly, they also raise the possibility of road closures, saying that 'many stadiums implement temporary road closures as they result in quicker egress times and therefore reduced impact to the wider infrastructure and community.' 

Final thoughts - crowd management
Lastly, however people travel, everyone will have to walk along the Oxford Road or Frieze way to actually get into the ground. That's 8,000 to 16,000 people walking along narrow pavements that cannot easily be widened, especially where the Oxford Road crosses the A34.  Many will want to leave promptly at the end of the game.  It's easy to see why road closures are being considered.
The Triangle is being put forward as an ideal location due to its proximity to key transport links. Yet consider  the impact of routinely closing the Oxford Road /Kidlington Roundabout for periods on match days.
However, you crunch the transport numbers, the 90% sustainable transport figure is almost certainly unrealistic, like much of the arguments being put forward for the Triangle site.
There WILL BE transport disruption and large-scale crowd movements on match days. That's only to be expected for a venue of this kind. The question OUFC and the County Council are avoiding is 'just how bad might it be'?